What Training Classes do we offer?
We offer many weekly training classes for all levels at our main training venue - Norbriggs in Staveley.

We have use of a huge field and have two sets of aluminium/rubber First Contact agility equipment as well as enough 'extra' equipment and space to easily accommodate four full courses training simultaneously.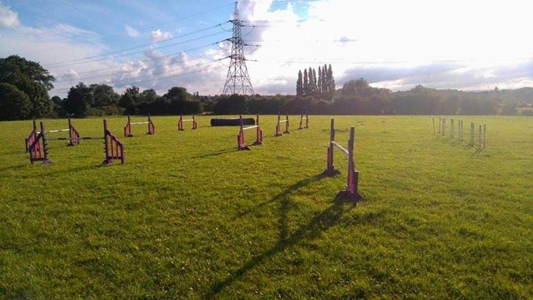 Introductory Course
Our introductory course is a six-week course during which you will learn some of the foundations and basic skills for agility training.
Any one new to the agility game is asked to attend our introductory course. Upon successful completion of our introductory course, you will then be invited to join the club as a member and attend weekly training classes to advance.
The cost of the course is a fixed £75 which covers all six of your classes.
The payment is usually requested 14 days before your introductory course starts. Please contact us HERE if you are interested.
Weekly Training Classes
We also offer weekly training classes for beginner partnerships through to advanced.
Our classes through the winter are primarily held on Saturdays and Sundays.
Our classes through the summer are primarily held on Mondays, Tuesdays, Wednesdays, and Thursday evenings. This is because our trainers and members are out competing at weekends through the summer.
Our regular trainers are Amy Wood, Gary Wilkes, Jackie Wilkes, Hannah Fairweather, Hannah Harvey and Kerri Costello. They have all trained and competed at Championship level in agility and are excellent trainers.