Training
If you are interested in training with us we hope you will find the next few pages useful and look forward to hearing from you!

Click HERE to download the rules for ALL Training Sessions at NDDAC

Please use the Contact Page to email us about training or with any questions you might have.

We offer training sessions twice every week at our Norbriggs venue in Staveley.
We have use of a huge field and have two sets of aluminium/rubber First Contact agility equipment as well as enough 'extra' equipment and space to easily accommodate four full courses training simultaneously.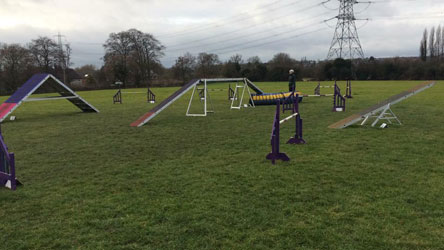 Members can train with the group training session or, if there is something specific they wish to work on, can choose to set up additional equipment to practice on and train themselves.
Training through the summer months is usually held on a Monday and Wednesday evening from 6.30pm to dusk. As the nights close in through winter we move to training at weekends on a Saturday morning (10.30am start) and a Sunday afternoon (1.30pm start).
Members are free to attend the sessions convenient to them and simply pay on the day that they train - offering the flexibility that many of our busy members prefer.
Our training fees are set each year and the current fees are Here
If you wish to try before you join you may visit and train with the club three times for £10.00 per session. Please contact us to arrange your first visit to our club.
We have a set beginner course running approximately every six weeks where the basics and foundation work for beginning agility training with your dog is taught. The area for beginner dogs is fenced from the rest of the training group to assist with beginner dogs' concentration but you are asked to bring your dogs with a basic understanding of obedience for your dog's safety. Please also bring a whole load of tasty treats (for your dog!), your dog's favourite toy, and poo bags (again for your dog! We do have a portaloo on site for you!). We are happy to take beginner dogs to do foundation work from six months old provided your dog is fully grown, healthy and fit enough to undertake the tasks asked of them. Please do contact us from the Contact page to find out when the next beginner session starts.